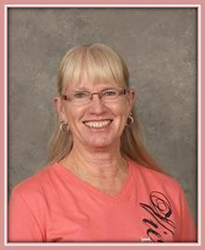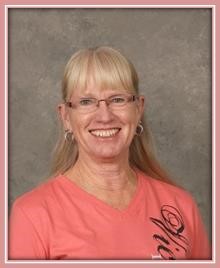 District Administrators, Governing Board members, Marana Schools' 2340 Foundation members, and school staff recognized Sue Richey for her 40 years of teaching during a surprise celebration on Tuesday, September 30 at Coyote Trail Elementary School. At the celebration, Dr. Wilson presented Ms. Richey with her 40 year longevity pin. This is the first employee in the Marana district to receive this recognition. Ms. Richey also received a cake and flowers. The 2340 Foundation presented her with an appreciation gift.
Sue Richey began teaching in the Marana Unified School District in 1975 and the 2014-15 school year marks her 40th year of teaching. She is currently a second grade teacher at Coyote Trail Elementary School. She has also coordinated the… Continue reading →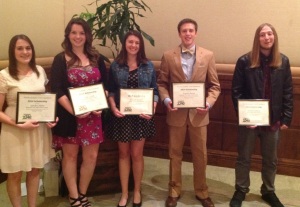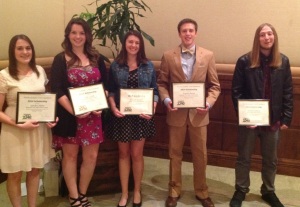 The Marana Schools' 2340 Foundation is committed to ensuring that every student is prepared for future success and has a vision for life. With that, the 2340 Foundation will be issuing scholarships in Spring 2015 to:
Four (4) Marana High School students
Four (4) Mountain View High School students
Two (2) MCAT High School students.
Awards will be issued to 2340 students (full K-12 experience within the Marana Unified School District) in the amount of $2,500 per student.
Click Marana 2340 scholarship application for the scholarship application.
The Marana Schools' 2340 Celebration of Excellence luncheon was held on March 13, 2014 at the Ritz-Carlton, Dove Mountain. The luncheon was a resounding success because of the support of our community partners. Thank you again for touching the lives of students and staff in the Marana Unified School District.
The 2340 Foundation was pleased to recognize the following Marana Unified School District Employees of the Year. Business sponsors generously donated a $5,000 award to each winner.

Support Staff Employee of the Year – Sponsored by CORE Construction

 Kim Meine, Mountain View High School – Special Education Aide

Teacher of the Year – Sponsored by Facility Management Group

 Sara Anderson, Desert Winds Elementary School – First Grade Teacher… Continue reading
FREE CONCERT!  April 28 at 7:00 p.m., Mountain View High School, 3901 W. Linda Vista Blvd. Donations accepted benefiting the Marana Schools' 2340 Foundation.
The Marana Winds cordially invites you and your family to attend their second annual community concert.
This exciting evening of music will feature a variety of wind band compositions that are sure to be crowd pleasers, while highlighting the talent level that exists within the Marana community.
Marana Winds, formed in 2013, consists of approximately 70 talented musicians consisting of staff and faculty from the Marana Unified School District, students from Mountain View and Marana High School, alumni, and community members.
The National Board for Professional Teaching Standards (NBPTS) has announced that Shannon Carmichael from Coyote Trail Elementary has received national certification in Literacy: Reading-Language Arts/Early and Middle Childhood and Amy Corner from Marana Middle School has received national certification in Physical Education/Early Adolescence through Young Adulthood. Congratulations!
National Board Certification is recognized throughout the country as one of the highest honors a teacher can receive. To achieve certification, a teacher must complete an extensive process by which their teaching practice is examined against the profession's highest standards in the following 5 core areas:
1. Teachers are committed to students and learning.
2. Teachers know the subjects they teach and how to teach those subjects to students.
3. Teachers are responsible… Continue reading →
Congratulations to John Sugameli, Marana High School teacher, selected as a finalist for the Arizona Department of Intercollegiate Athletics and the Circle K Corporation "Outstanding High School Faculty Awards Program," which honors outstanding high school teachers in Southern Arizona.
Mr. Sugameli will be honored during a pre-game recognition ceremony at the Arizona men's basketball game on Thursday, January 23.
On Friday, February 28, all finalists will be honored at a banquet held at the Hall of Champions/University of Arizona where the Teacher of the Year will be announced.
Your donation benefits MUSD students
Arizona law (A.R.S. 43-1089.01) allows taxpayers to receive a tax credit of up to $200 for a single individual or a head of household and $400 for a married couple filing a joint return for donations that benefit students in our public schools. That's not just a deduction, it's a tax credit – it reduces what you owe in state taxes, dollar-for-dollar.
Make your donation online or send your donation in person to the Marana Unified School District, earmarked for support of one of our many qualifying extracurricular activities. We'll send you a receipt for your records. Then, when you fill out your Arizona state tax forms, you can subtract your donation – up to… Continue reading →
The Marana Schools' 2340 Foundation Board of Directors would like to thank the Marana Winds for a truly outstanding performance on May 6. The Foundation would also like to share its deepest appreciation for the support of the community. It is an honor to be a part of the Marana Unified School District.